The TV ClubHouse is an online community of people from all over. We enjoy sharing our thoughts, opinions and sometimes frustration with each other.

Our main focus is TV shows (we especially like the REALITY BASED TV SHOWS!) but we can be found discussing just about anything. We love to have fun, big time!

Generally, it's a place to hang out, a place to kill some time with friends; a place some would call their second home.

The TV ClubHouse is home of the Big Brother Fan Club, which started small then grew...and grew...and grew!

If you have never enjoyed online discussion before, I urge you to JOIN our discussion board right now and see what you're missing out on!
About Neil (founder and admin of the TVClubHouse)
I live in Ottawa, Canada's capital City. I have worked in high-tech for about 5 years, but most recently I'm working as a handyman, once again. Manworks is my latest venture! The TV ClubHouse sprang to life when I wanted to do a fan site for the tv show Big Brother for some reason. Now, with hundreds of regular users, it's turned into a community space that's a part of my life.

I do other things too, like enjoy old cars, work on my house and fix up antiques when time permits. I love hanging with friends and generally having a good time! Life is short, enjoy every moment.

If you're so inclined, there's a copy of my 15 minutes of fame below!
Fan Club in the Media!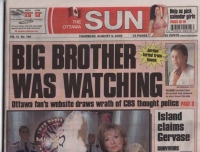 click